Miss traveling to Australia? Enjoy a taste of Australia at The Fullerton Hotel Singapore and The Fullerton Bay Hotel Singapore with their 'Best of Both Worlds' dining series! Bringing together talents and produce from both Singapore and Australia, the series is part of the first anniversary celebrations for their sister property – The Fullerton Hotel Sydney, which shares a similar history as a General Post Office to The Fullerton Hotel Singapore.
From 18 October to 30 November, you can look forward to Aussie-themed and Singapore-inspired dining promotions that draw on the rich culinary cultures of both countries. Australia-based MasterChef Asia and Singapore judge, cookbook author and celebrity chef Audra Morrice will also join Executive Sous Chef Zacharie Ong to present a myriad of dishes. These include a special four-hands menu at La Brasserie, Afternoon Tea at The Courtyard and The Landing Point, and special snacks at Gin Parlour.
Afternoon Tea at The Courtyard and The Landing Point
MasterChef Asia and Singapore judge, cookbook author and celebrity chef Audra Morrice grew up in Singapore but made her life in Australia, giving her a unique culinary perspective that combines the best of both worlds.
Available from 1 to 30 November 2020, her Afternoon Tea menu showcases the well-loved flavours of Singaporean cuisine, interweaved with dishes and produce that are distinctly Australian.
Savour the likes of Kueh Pie Tee and shredded Singapore Chilli Crab tucked in golden, crispy bun, alongside Beef Rendang Pot Pie, a deliciously Singaporean spin on Australia's favourite meat pie, and Pandan Lamington laced with the heady fragrance of the pandan leaf.
Other highlights to look forward to include her Kalamansi Curd Tart with gin and tonic jelly, Flourless Chocolate Cake kissed with aromatic five-spice, and a beautifully scented Lychee Panna Cotta with lychee-infused white fungus.
Available at The Courtyard from 3.00 p.m. to 6.00 p.m. (Monday to Friday)
 Four-Hands Menu with Chef Audra and Chef Zacharie at La Brasserie
From 3 to 30 November 2020, you can expect a truly Best of Both Worlds experience with this exciting four-hands collaboration between Chef Audra and Executive Sous Chef Zacharie Ong. The four-course set menu is built on top shelf Australian produce while drawing from the Singaporean culinary heritage.
You would be pleasantly surprised with delicious twists on local dishes such as laksa and salivate at dishes that are peppered with generous use of South-East Asian aromatics such as coriander, lime leaves and lemongrass.
First, your meal will start with a Tasmanian Salmon Tartare pepped up with a zesty coriander chilli salsa, followed by a delicate Laksa Broth. For mains, choose either the Slow Roasted Pork Belly spiked with fiery Szechuan peppers paired with chilli sauce laced with cinnamon orange and scented with star anise, or savour the Stockyard Beef Short Ribs, with distinctive Singaporean flavour pairings of gula melaka, lemongrass, chillies, layered into an Aussie favourite.
End with the delicious trinity of coconut, pandan and gula Melaka in the form of a Pandan Chiffon with Coconut Pandan Cream, paired with a delicate meringue and drizzled with thick, sweet gula Melaka.
Available from 6.30 p.m. to 10.30 p.m (Monday to Sunday)
Happy Hour with Australian Gins at Gin Parlour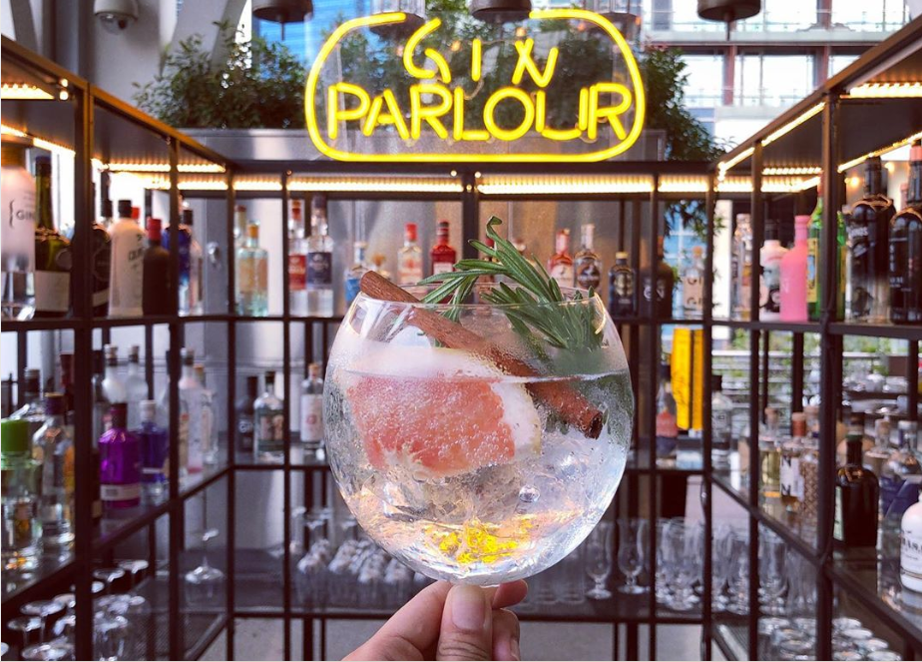 From 1 to 30 November 2020, get ready for Aussie gins to take the spotlight at Gin Parlour this November. Look forward to enjoying three top-shelf Australian gins for just S$11 during Happy Hour!
These gins include the 'Never Never Triple Juniper' Gin from Adelaide, Four Pillars "Bloody Shiraz" Gin – a gorgeous blend of Four Pillars Rare Dry Gin with Yarra Valley Shiraz grapes and The Sabre from award winning Margaret River, an artisanal gin maker from West Winds.
Pair these gins with your choice of flavoured tonic waters such as elderflower, grapefruit, and watermelon, and enjoy it with an order of Beef Rendang Pot Pie or Chilli Crab Meat Bun for a delicious snack.
Available from 5.00 p.m. to 8.00 p.m. (Monday to Sunday)
For reservations, please call +65 6877 8911 or email dining-rsvp@fullertonhotels.com.
Address: 1 Fullerton Square, Singapore 049178
Telephone: +65 6733 8388
Address: 80 Collyer Quay, Singapore 049326
Telephone: +65 6333 8388