HoteLux launches a one-stop membership-based luxury hotel reservation app which connects over 4,000 luxury hotel properties worldwide. As wanderlusters continue to turn towards leisure staycations to fulfil their holiday desires – choosing to explore beautiful spaces and sleek interiors the city has to offer, HoteLux greets their members with valued benefits through the app's seamless user journey that will ultimately assist them in planning a flawless visit at their favourite upscale property.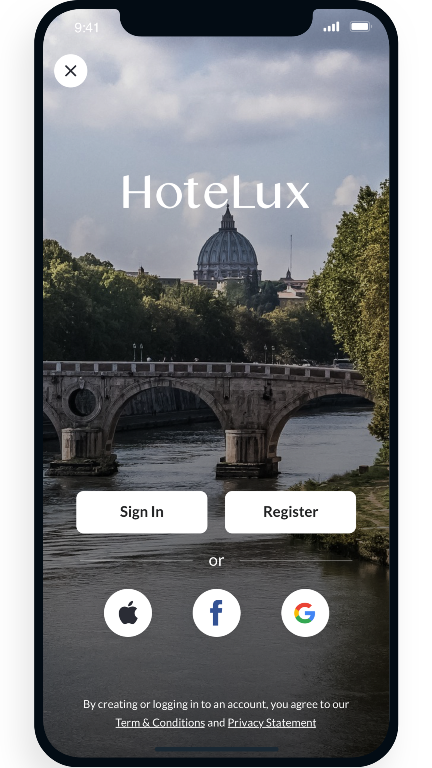 When you book via HoteLux, you will be able to enjoy the following benefits1in HoteLux's hotel partners with an annual membership fee of SGD 99:
● Daily breakfast
● Up to USD100 hotel dining/spa credit per stay
● Complimentary room upgrade (subject to availability)
● Early check-in & late check-out (subject to availability)
● Double dip on points – earn both hotel loyalty program points and HoteLux points
● Pay upon check-in and flexible cancellation policy
● Welcome letter/amenities
On top of the benefits offered by hotel partners, HoteLux membership offers the below rewards and services:
● 1,000 HoteLux welcome points (equivalent to SGD100)2
● Redeem HoteLux points to room vouchers
● Limousine transfer3
● Live chat customer service
In conjunction with HoteLux app launch in Singapore, HoteLux will be waiving the annual membership fees for the first two hotel bookings for new users.
The vast range of exclusive benefits is automatically linked to the respective renowned hotel partner's system from the likes of Shangri-La, Four Seasons, Marriott, Mandarin Oriental, Hyatt, Hilton and more.
HoteLux invites consumers to enjoy member benefits that are usually exclusive to prestigious credit cardholders only. These remarkable perks are available through HoteLux's multiple booking systems via the app, website4and its various social media platforms4. HoteLux immaculately connects travelers with top-notch international luxury hotels that offer refreshing activities such as reconnecting with nature, indulging in local gastronomy, experiencing a unique wellness affair through healing rituals designed to relax and more.
Navigating through the HoteLux app offers its members an intuitive and personalised digital experience that is visually stunning. A wide selection of extravagant hotel curation for users to select from an interactive platform that is expected to delight travel enthusiasts. Members of HoteLux can instantly book a refined and indulgent accommodation through just a couple swipes on the app. Once the global travel restrictions have been lifted, members are able to enjoy staying at unique destinations available worldwide for them to choose from the app.
Yihao Shi, Managing Director of HoteLux said: "By launching HoteLux, we aim to provide our members with a comprehensive solution to enhance their luxury hotel experience, the newly launched app also delivers beyond the expected hotel loyalty programme schemes, by rewarding their members with experiences that are incomparable to any other."
Terms and Conditions:
Benefits subject to each hotel group and hotel properties. For details, please check HoteLux app and find out more
For HoteLux Elite Members. Guest Member will receive 200 HoteLux welcome points. Elite Plus Member will receive 2,000 HoteLux welcome points
Only for HoteLux Elite Plus Members – twice per year within Singapore
Available by phases from Q2 2021